Gender Audit Tool applied to 6 international Research Performing Institutions!
The Nehem Gender team is proud to announce that they have finalized gender audits at six international Research Performing Institutions (RPIs).
31-07-2023
As an independent monitoring partner in the Horizon 2020 project EQUAL4EUROPE, Nehem has developed an impartial assessment tool for RPIs to evaluate the progress that each institution has made in the field of gender equality through the implementation of their own Gender Equality Plan (GEP). This comprehensive Gender Audit Tool (GAT) consists of three complementary modules: i) desk review, ii) online questionnaire and iii) key informant interviews.
Started in September 2022, the GAT has now been applied to six highly recognized, international RPIs: ESADE (ES), ESMT (DE), IEDC (SI), INSEAD (FR), RSM (NL) and UNIBA (SK). Each audit consisted of a desk review including the GEPs, other relevant documentation and sex-disaggregated data, then survey data was collected and analysed, and finally in-person and online interviews with key informants took place. The GAT has provided each RPI with insights into the actual GE status and resulted in recommendations for further improvement.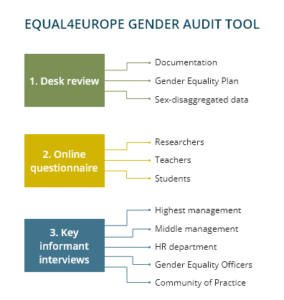 Understanding GE at any institution is a complex task, but the GAT has proven to be very effective:
The underlying logical framework made sure that we addressed every aspect of this complex topic.
The standardized data collection methods ensured an efficient way of working.
Clear guidelines for the survey and interviews ensured the collection of high-quality, relevant data.
Clear procedures for data analysis ensured that all findings are based on the data collected (objectivity).
Recognising the national context allows for a more nuanced interpretation of data.
Triangulation of data through the use of a mixed-methods approach and multiple sources in the data collection process enhances the validity of the findings and more comprehensive understanding of the research topic.
A summarizing report with lessons learned, best practices and general recommendations and all institutional reports have been finalized and submitted to the European Commission (EC).
Further, we are honoured that we have been invited to present our tool and findings at the AOM Annual Meeting in Boston, MA in the United States, 4-8 August 2023.
Contact met een van de Nehem-experts is makkelijk: bel 088-8381381 of stuur ons een berichtje via onderstaand formulier: